March 17 marks a tradition that is not much of a big deal in the Czech Republic – so it usually passes unnoticed (we save the green beer for Easter). But think about just that – the less students know about it, the more you can tell them about this tradition which is fun and huge in many English-speaking countries all over the world. Or make a quiz for your students and have them guess the answers. Haven't you had themed lessons for Halloween or talked about Thanksgiving before? This is no different. There are several fascinating legends associated with this patron saint of Ireland and you can entice your students into asking for explanations using these cartoons: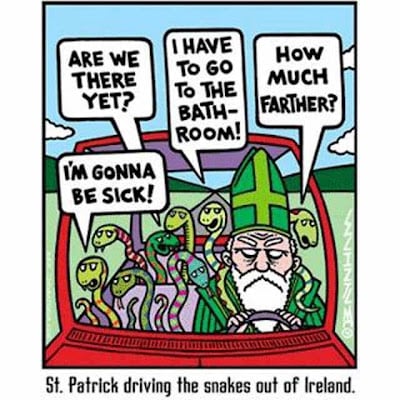 Are we there yet? = Už tam budem?
I have to go to the bathroom! = Musím na záchod!
How much farther? = Jak je to ještě daleko?
I'm gonna be sick! = Budu blinkat!
drive somebody from a place = odvézt, ale také vyhnat někoho odněkud
hit on somebody = balit někoho
I'm not even Irish = ani nejsem Ir(ka)
me neither = já taky ne
pot o' gold = hrnec zlata
… is doing nothing for you sitting at the end of the rainbow … = vám nevydělává, když jen tak leží na konci duhy
at the very least = (úplně) přinejmenším
no-risk interest-bearing account = úročený účet bez rizika